Handicap Accessible Bathtubs & Showers in Turner, MI 48765
Independent Home Products, LLC custom manufactures handicap accessible bathtubs in Turner Michigan and handicap accessible showers to meet the needs of your specific environment. With many models and styles, as well as a wide variety of accessories to choose from, Independent Home Products, LLC makes it simple to customize your handicap accessible bathtub or shower to best meet your individual needs.
No other Turner handicap bathtub or handicap shower company offers the extensive features and customized service that Independent Home Products, LLC can. Simply call (248) 221-1221 for a free in-home consultation and quote on installing a handicap accessible tub or shower in your Turner home.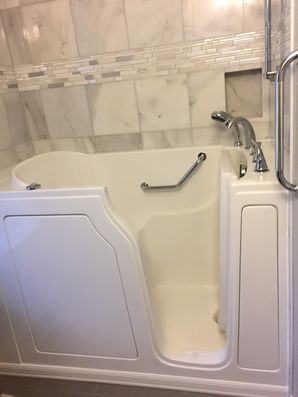 Benefits of a Turner Handicap Accessible Shower or Tub Installation
When you call (248) 221-1221 for an in-home consultation, our trusted installer will arrive at no charge, take all necessary measurements and answer all of your questions about installing an accessible bathtub in Turner. Below are some of the many benefits of calling Independent Home Products, LLC to make your standard bathroom more accessible with a walk-in tub or shower:
• Low to no entrance thresholds mean no trips & falls
• Non-skid flooring prevents slips & falls
• Well placed grab bars will make bathing & showering safe
• Bath & Shower seats offer comfort while bathing
• Customizable to meet your needs
Freedom & Safety from a Handicap Accessible Bathtub in Turner
Independent Home Products, LLC's installation of a handicap accessible bathtub or handicap accessible shower in your Turner home will allow you the independence to bathe and shower in comfort and safety. Our handicap tubs and showers are specifically designed to transform a standard tub or shower into a beautiful and safe handicap accessible space. As the trusted leader Turner handicap accessible bathtub design and installation since 2007, call Independent Home Products, LLC today at (248) 221-1221 for a free in-home estimate.
WHAT CUSTOMERS ARE SAYING:
5★★★★★ - "Great tub, great company. I wish I would have contacted them sooner."
Terry
2015-05-12
---
5★★★★★ - "The team at Independent Home was first rate. No pressure from the salesman. They had several options for my husband and they were patient with us as we selected the best walk in tub for our situation."
Mary in Detroit, MI
2015-05-12
---
5★★★★★ - "We had 3 quotes for our walk in tub and Independent Home was about 20% less expensive with a higher quality tub. Thanks!"
John in Flint, MI
2015-05-12
---
5★★★★★ - " Due to my knee replacement, I could no longer enjoy bathing. This is the second tub purchase that I have made with Walkin Bathtubs of MI. Originally they installed a tub in my home and then I wanted another one a year later when I moved to an assisted living facility. I only agreed to go if I could take my tub with me! They installed a Dual Celebrity model for me so I could have the gentle massage jets as well as the deep tissue massage when I wanted something more aggressive."
Rita
2013-11-06
---
Call for FREE Handicap Accessible Bathtubs & Showers Quote
---
Handicap Accessible Bathtubs & Showers available in the following Turner, MI zip codes: